ISO/TS 16949 includes special requirements for organisations supplying the automotive sector. These supplement standard quality management requirements for companies that produce parts or spares for automobiles.
ISO/TS 16949 certification is frequently a requirement for companies wishing to trade within the automotive industry.
Benefits of ISO/TS 16949 certification:
increases production efficiency and reduces error rates
ensures necessary production quality for the automotive industry
prevents financial losses as a result of high quality of production
enables a company to enter and remain in automotive supplier chain
creates a responsible corporate status
Certified organisations can include URS and IATF logos in their promotional activities.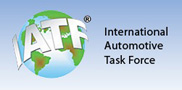 Download a leaflet in PDF
Are you interested in this certification?
If you are interested in this certificate, do not hesitate to contact us through the Enquiry Form.
Contact us
Why Choose URS Certification?
URS Certification is a holder of the international accreditation UKAS - United Kingdom Accreditation Service.
More than 40,000 contracts from 32 countries have attested to the high quality of URS Holdings services.